Welcome to my turn on The Doll House blog tour. I am delighted to have a great guest post by Phoebe Morgan on writing tips! I will hand you over to Pheobe and then tell you more about her debut novel.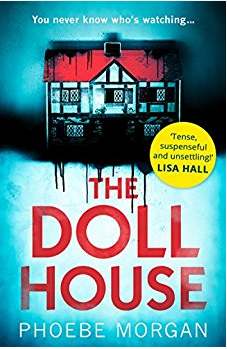 My Top Three Writing Tips by Phoebe Morgan
1. Don't try to edit as you go
It can be really hard as you write to resist the urge to correct every sentence as soon as it's down on the page, but my advice would be to try not to do this. Instead, keep writing, and once you have a first draft, you can then go back and edit it as much as you like! If you keep stopping and going back after every new paragraph, you will find that your manuscript progresses very slowly, and the chances are that you'll end up changing it all again later anyway. No first draft is anywhere near perfect – far from it – but you will feel so much better psychologically when you have a body of work that you can then play around with. There is something about having the finished draft that takes some of the pressure off – and then you can begin sculpting it into the end product, which I often find more enjoyable than the initial scramble to get words on the page.
2. Know your characters' backstories
In the first draft of The Doll House, the character of Mathilde had a whole backstory where we got to see her marriage, how she first met her husband and the different jobs she had as a young woman. During the editing process, all of that got cut out, but it didn't really matter because I knew all about her life and so it made for a (hopefully!) more rounded, 3D character in the final draft. Even though the reader hadn't seen her backstory, it was all fleshed out in my head and so I knew what kind of character I needed her to be. I think it's always important to know your characters really well, so that their actions, thoughts and decisions ring true to your readers. I like plotting the characters out in spider diagrams before I write – just little things like their traits and hobbies, and even if that content doesn't go in the book or only takes up a sentence or two, it just makes them into believable people on the page.
3. Don't be scared to cut things out
When you've worked very hard on something, the idea of deleting great swathes can seem terrifying, and you'll probably find that every instinct in your body is screaming out no! But it's like that moment when you swim in the sea – you really don't want to put your shoulders under but then when you do, it's really fun and you're glad you did. Once you actually start cutting out bits that aren't adding to the pace, aren't moving the story forwards or just aren't of interest to a reader, you'll find you get a bit of a buzz as you see your clean manuscript emerging in front of you, without all the unnecessary extra words that were weighing it down.
Thank you Phoebe for the great tips.
The Doll House Blurb
You never know who's watching…
Corinne's life might look perfect on the outside, but after three failed IVF attempts it's her last chance to have a baby. And when she finds a tiny part of a doll house outside her flat, it feels as if it's a sign.
But as more pieces begin to turn up, Corinne realises that they are far too familiar. Someone knows about the miniature rocking horse and the little doll with its red velvet dress. Someone has been inside her house…
How does the stranger know so much about her life? How long have they been watching? And what are they waiting for…?
A gripping debut psychological thriller with a twist you won't see coming. Perfect for fans of I See You and The Widow.
Published on 14 September by HQ Digital
A huge thank you to Phoebe Morgan and Helena Sheffield for inviting me to take part in the blog tour. Follow the est of the tour for more author guest posts and reviews…