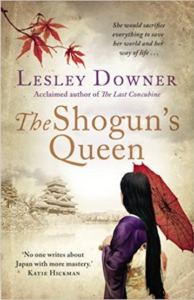 The Blurb
The year is 1853, and a young Japanese girl's world is about to be turned upside down.
When black ships carrying barbarians arrive on the shores of Japan, the Satsuma clan's way of life is threatened. But it's not just the samurai who must come together to fight: the beautiful, headstrong Okatsu is also given a new destiny by her feudal lord – to save the realm.
Armed only with a new name, Princess Atsu, as she is now known, journeys to the women's palace of Edo Castle, a place so secret it cannot be marked on any map. Behind the palace's immaculate façade, amid rumours of murder and whispers of ghosts, Atsu must uncover the secret of the man whose fate, it seems, is irrevocably linked to hers – the shogun himself – if she is to rescue her people . . .
My Thoughts
I've been intrigued by Geisha's and Japanese culture for a while – I loved Golden's Memoirs of a Geisha and adore Madame Butterfly – but my knowledge of Japan's history is extremely limited. When I was asked if I would like to read and review Lesley Downer's The Shogun's Queen I didn't hesitate to agree. It has taken me a while to get around to reading it and now I have I will definitely be reading Downer's other books in The Shogun Quartet of which this is the first. Downer has opened up my curiosity about Japanese culture and I want to know more, always a good sign in historical fiction.
Based on historical fact, The Shogun's Queen is set in Japan in 1853 and follows the life of Okatsu from the Satsuma clan. A turbulent time in the country's existence, Japan finds itself being opened up to the Western world when ships begin to appear from America, Britain and Russia. Okatsu finds herself thrust into a position in which her influence can directly impact and influence Japan's ability to maintain its tradition and culture and whether or not the country becomes embroiled in war.
Okatsu is incredibly well portrayed and she is immensely likeable. This courageous, selfless young woman who gives up everything for her country is an amazing character and is made even more amazing as she actually existed. As pointed out in the Afterword, Downer advises that the women of Japanese history are largely ignored and yet Okatsu was an integral part of that history.
Downer has written a captivating account of an elusive and secretive world. Her prose is such that she fully draws you into this society and every part of The Shogun's Queen is meticulously portrayed. From the thoughts and feelings unique to their culture to the descriptions of the surroundings, you are completely immersed in the book. It had me considering viewpoints that I wouldn't have thought about without reading it. It is sumptuous and beautiful and yet also captures the underlying disadvantages of those women living in, what is essentially, a luxurious prison.
Downer clearly knows a lot about Japanese culture and history and her careful and considered research comes through to create an accessible, fascinating, insightful book. As I stated earlier, The Shogun's Queen has whet my appetite to find out more about this era in Japan.
The intrigue had me completely gripped and enthralled. Okatsu has an impossible task and I was desperately hoping that she would be successful in her task. I didn't want The Shogun's Queen to end and when it did I was left feeling bereft. It is one of those books that leaves an indelible mark on you and has you thinking about it for days afterwards.
A wonderfully written, fascinating, all absorbing account of a critical turning point in Japanese history. Full of political intrigue and yet emotionally charged, The Shogun's Queen is an epic tale that I have no doubt those who enjoy historical fiction will love as much as I did.
Published in ebook on 3 November 2016 by Transworld Digital and paperback on 27 July 2017 by Corgi.
A huge thank you to Lesley Downer and Transworld (Bantam Press) for my copy in exchange for my review.