I am super excited to be on the House of Spines by Michael J Malone blog tour today with the fabulous Blue Book Balloon, and to finally be able to share my review of this bloomin' brilliant book. I loved it! To find out why, read on…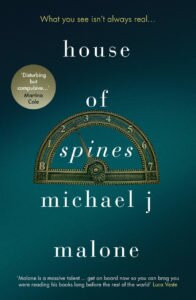 The Blurb
Ran McGhie's world has been turned upside down. A young, lonely and frustrated writer, and suffering from mental-health problems, he discovers that his long-dead mother was related to one of Glasgow's oldest merchant families. Not only that, but Ran has inherited Newton Hall, a vast mansion that belonged to his great-uncle, who appears to have been watching from afar as his estranged great-nephew has grown up. Entering his new-found home, he finds that Great-Uncle Fitzpatrick has turned it into a temple to the written word – the perfect place for poet Ran. But everything is not as it seems. As he explores the Hall's endless corridors, Ran's grasp on reality appears to be loosening. And then he comes across an ancient lift; and in that lift a mirror. And in the mirror … the reflection of a woman …
A terrifying psychological thriller with more than a hint of the Gothic, House of Spines is a love letter to the power of books, and an exploration of how lust and betrayal can be deadly…
My Thoughts
I have been eagerly anticipating this book, however, there is always a worry that a book you are desperate to read won't live up to expectations especially when you have loved an author's previous work as much as I loved Malone's A Suitable Lie. I am pleased to say I had nothing to worry about as House of Spines is amazing and I adored it!
I do have one problem though, and that is how on earth to write this review and do House of Spines justice. Malone has combined so many things I love in one book and while I want to talk about it, I want readers to have the same experience I did in reading it for the first time. Talking about it is, therefore, difficult. I wish I was a member of a reading group that currently had House of Spines as their current read as there is so much to discuss.
House of Spines has everything you could want in a novel – the uncovering of closely held family secrets, a complex and damaged main character, a web of deceit and enough left to the reader's interpretation to make you continue thinking about it long after you have closed the book for the final time. It also has the gothic elements I have loved since first discovering Wuthering Heights and Du Maurier as a teenager.
The prologue captured my attention immediately and literally begged me to read on. Simultaneously intriguing and moving, Malone has created the perfect introduction to main character Ranald. You just know there are going to be several layers to this man due to his experiences. I was with Ranald for every step of his journey – from him inheriting a house from the great uncle he never knew existed, to his unravelling and the position he ultimately finds himself in in the end. While there were moments I doubted him, I desperately wanted him to be okay.
My other favourite 'character' in House of Spines was Newton Hall – the property in which the book is named after. While Newton Hall cannot be classed as a character in the normal sense of the word, its importance to the book cannot be ignored. It has an omnipresence that is both disturbing and delightful. I found myself both loving Newton Hall and being repelled by it. I was in awe of it and yet nervous in its presence and about the impact it had on Ranald. I wanted the best for Ranald yet I also wanted the best for Newton Hall and being unsure if the two could go hand in hand, I wasn't sure, if push came to shove, which of the two I would support. The energy Newton Hall emits, the secrets it harbours and Malone's writing and conveyance of the two caused a mix of emotions within me. Newton Hall caused me much trepidation and yet I was enthralled by it.
House of Spines is a story of mistruths, mistrust and generational discord in which the most harmful aspects of being human are passed down from one relative to another. Whose version of events are to be believed continues to be a question I am mulling over days after reading. Malone incorporates the right amount of red herrings in order for the reader to be caught off guard and the distrust that lies amongst the characters of the book becomes a state the reader also finds themselves in.
Malone touches on mental health issues throughout House of Spines and deals with this with sensitivity and insight. It is a credit to Malone's skills as a writer that he has managed to combine a current issue with a gripping psychological thriller while maintaining an otherworldly element and feel. Malone's prose at times hit me right in the heart and you can clearly see the poet within him.
House of Spines will send shivers down your spine, leave you questioning, take you by surprise and mess with your emotions. Read it, it's fantastic and will undoubtedly be included as one of my books of 2017.
Published on 15 September 2017 by Orenda Books.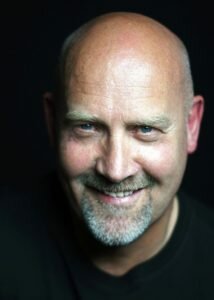 About the Author
Michael Malone is a prize-winning poet and author who was born and brought up in the heart of Burns' country, just a stone's throw from the great man's cottage in Ayr. Well, a stone thrown by a catapult. He has published over 200 poems in literary magazines throughout the UK, including New Writing Scotland, Poetry Scotland and Markings. His career as a poet has also included a (very) brief stint as the Poet-In-Residence for an adult gift shop. Blood Tears, his bestselling debut novel won the Pitlochry Prize (judge: Alex Gray) from the Scottish Association of Writers. Other published work includes: Carnegie's Call (a non-fiction work about successful modern-day Scots); A Taste for Malice; The Guillotine Choice; Beyond the Rage and The Bad Samaritan. His psychological thriller, A Suitable Lie, was a number one bestseller. Michael is a regular reviewer for the hugely popular crime fiction website www.crimesquad.com. A former Regional Sales Manager (Faber & Faber) he has also worked as an IFA and a bookseller.
A massive thank you to Michael J Malone, Orenda Books and Anne Cater for the advance copy and for inviting me to take part in the blog tour.
Follow the rest of the tour…