Today I'm joined by the lovely JA Baker to talk books and writing in this week's Author Influences.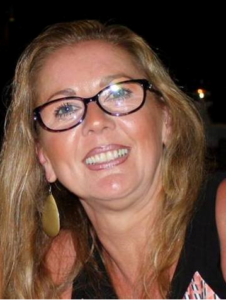 Which authors/books did you like to read as a child?
I was completely hooked on Enid Blyton's The Wishing Chair and The Lion, The Witch and The Wardrobe.
Were you good at English at school? Did you like it?
I adored English at school from starting Primary right through to College and beyond. It was definitely my favourite subject. I was fairly good at it and loved writing stories.
What genres do you like to read? Have they had an impact on the genre you write?
I like reading most genres but my favourite without a doubt is psychological suspense/domestic noir. Reading them has had a huge impact on my own writing, helping me to sharpen my skills and use the element of suspense in the best way possible in my stories.
If you were to write a different genre what would it be and why?
I would love to have a go at writing something with a supernatural theme. I think I would fail miserably at writing romance and will therefore stick to thrillers!
Did any author's work encourage you to pick up your pen and write and if so who, what and why?
It was Penny Hancock's thriller, Tideline that finally set me on the path to becoming an author. I had always wanted to write but lacked the know how and the drive to do it even though I had completed a writing course a few years previously. I just thought it was so brilliantly written and was such an unusual theme that I felt compelled to have a go, and so here I am!
Are there any authors who, as soon as they publish a new book, you have to get it?
I generally don't rush out to buy a book as soon as it comes out but so far have loved reading anything by Sabine Durrant as I think her style of writing is poetic.
Which books have you read that have made you think 'Wow, I wish I had written that' and what was it about the book?
Again, anything by Sabine Durrant and also Tideline. I also wish I had written both of the Paula Hawkins books as she is gifted at writing.
Have any of your plots/characters been influenced by real life events/people? (Be careful, I don't want you getting sued!)
I steer clear of using real life characters as inspiration for that very reason but in Undercurrent the location where I live was my inspiration for the book. A river runs at the bottom of my garden which at night can be pretty eerie so thought it would provide a perfect setting for a thriller.
A huge thank you for taking part. Thank you so much for inviting me to take part Abbie. It's been a pleasure.
JA Baker's second novel Her Dark Retreat was published on 17 October 2017 by Bloodhound Books.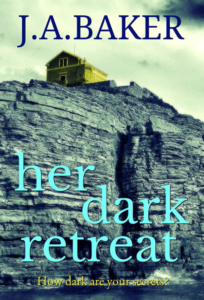 The Blurb
The coastguard's residence Chamber Cottage, which sits high up on the North Yorkshire cliffs, overlooking The North Sea, holds many dark secrets.
Alec and Peggy are struggling to overcome their marital problems. Both damaged by issues from their childhoods, they are trying to get on with their lives. But this is hard for them to do when they both believe they are being watched. As a result, Peggy, who has terrible scars on her face, becomes more agoraphobic.
To make matters worse, Peggy discovers her estranged mother is stalking both she and Alec, claiming she has a dark secret that is putting Peggy in danger.
What caused the scars on Peggy's face? Is Alec really the monster Peggy's mother believes him to be? And what secrets does Chamber Cottage hold?
About the Author
I live in the North East of England and am married with four grown up children, a grandson and a crazy dog called Theo. My first book, Undercurrent is available on Amazon and my next novel entitled Her Dark Retreat was released on October 17th.
My website is www.jabakerauthor.com and you can follow me on Twitter @thewriterjude or on Facebook by clicking on J A Baker Author. Please feel free to visit and contact me with any question about my writing!