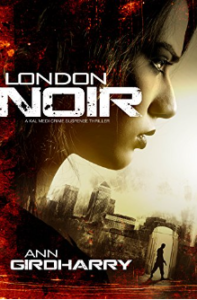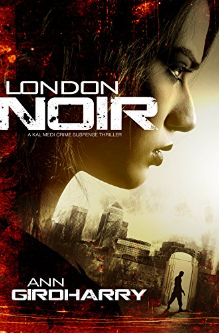 The Blurb
Memory loss, nightmares, the urge to kill – Sophie has it all. Is it Post-Traumatic Stress Disorder? Or something more sinister? Kal is about to find out…
After a near-fatal road accident, Kal helps a young girl in trouble. The girl's friends are being murdered one by one. Why? And who by?
Kal must kick start herself out of her downward spiral to save the young stranger.
But Kal is in the grip of the London Cartel and is someone after the girl, or is the girl after someone?
 Crime Suspense Thriller.
A stand alone story.
The second Kal Medi book.
My Thoughts
London Noir is the second book in Girdharry's Kal Medi series, following on from Good Girl Bad Girl which was published last year. While London Noir does work as a standalone, it is better to have read Good Girl Bad Girl firstly because you will get more of a sense of Kal's history and secondly because it's a cracking read.
When Kal is involved in a road traffic accident with a young woman called Sophie she is immediately drawn to her … and subsequently drawn into Sophie's dangerous life. Sophie's friends are being killed and Kal helps her to find out who is responsible and why.
I really liked the character of Kal in the first book and knew this would be a protagonist I wanted to follow. She is a kick-arse, gutsy, intelligent photo-journalist with an interesting background, thanks in part to her father who her taught her all about understanding body language and how to read and manipulate people. In this second book we see a softer and more vulnerable side to Kal. This makes me like her even more and there is plenty of scope for Girdharry to continue with this character and I look forward to seeing how Kal develops as the series progresses.
London Noir draws you in immediately with a first chapter that captures your attention and leaves you wanting to know more. From there the pace gradually gains momentum and you become completely gripped. The plot is fast-moving and keeps the reader of their toes with twists and turns galore making London Noir a thrilling ride.
The killer in London Noir may well be the most evil, chilling antagonist I have come across this year! Punctuated with chapters in which the killer narrates in first person, Girdharry ensures that the reader's attention is maintained throughout. I loved getting an insight into what makes the killer tick but bloomin' heck it sent shivers down my spine as it is as creepy as hell!
What I really like about this series is the use of psychology and body language that Girdharry incorporates. This adds an additional layer and there is an intelligence in Girdharry's books that make them stand apart from other crime thrillers.
If you haven't yet checked out the Kal Medi series yet I strongly suggest you do. Current, unnerving, well cast and plotted, London Noir is a must for crime fiction fans.
Published on 17 October 2017 by Chassagnard Publishing.
A huge thank you to Ann Girdharry for the advance copy in exchange for my honest and unbiased review.
Read my review of Good Girl Bad Girl HERE.