I am delighted to be joined by Nathan O'Hagan for today's Author Influences. Nathan is an author and one half of new publishers Obliterati Press (I love that name!) and today he is telling us about the books and authors that inspired him.
Which authors/books did you like to read as a child?
I was pretty badly dyslexic as a child, so reading was a big struggle, but I managed to read a collection of abridged Sherlock Holmes stories when I was about nine or ten, which I absolutely loved, and then went on to read the originals. Reading Conan Doyle's stories definitely helped me overcome my dyslexia, so I'll always have a soft spot for them.
Were you good at English at school? Did you like it?
Along with history, English was one of the few subjects I did ok in. I enjoyed the reading part, not so much the comprehension and all that. I also found the syllabus pretty uninspiring. I enjoyed it more as I got older when we allowed to choose our own books to read. I was choosing stuff like American Psycho, Silence Of The Lambs and Philip K. Dick, some of which was probably pretty unsuitable for a thirteen year old.
What genres do you like to read? Have they had an impact on the genre you write?
I know it's a bit vague, but I like literary fiction. I'm mostly inspired by books that reflect reality, either mine or someone else's. I like social realism, so I'm not a huge fan of 'genre' fiction like fantasy, but I'm certainly fond of a bit of crime or even sci-fi in small doses.
If you were to write a different genre what would it be and why?
Probably crime. I had a sort of stab at it with my second novel Out Of The City, but that was much closer to psychological thriller than full on crime. I'd love write a balls-out crime thriller at some point, it's a great genre and I'd love to see if I was able to write the police procedural aspect, as I think that takes a patience and skill that I don't currently posses.
Did any author's work encourage you to pick up your pen and write and if so who, what and why?
Definitely James Ellroy. After leaving uni and spending some time on the dole, I devoured his entire back catalogue in the space of a few weeks. For weeks afterwards I was just mentally stuck in 50's L.A. I'd written music and started a screenplay before that, but then I knew writing fiction was something I had to do.
Are there any authors who, as soon as they publish a new book, you have to get it?
Ellroy still. His last couple of books have been pretty disappointing, but he's still the master. I'm just hoping he writes something as powerful as American Tabloid or The Big Nowhere again soon. New Russ Litten, Kevin Sampson and Chuck Palahniuk books are always reasons to get excited too.
Which books have you read that have made you think 'Wow, I wish I had written that' and what was it about the book?
Fight Club. It was just so powerful, like a punch to the gut. It captured the mood of a generation. It's one of the defining novels of the decade, as was the film. Every writer would kill to capture the imagination like Palahniuk did with that book.
Have any of your plots/characters been influenced by real life events/people? (Be careful, I don't want you getting sued!)
Oh God yes. 'Write what you know' is the oldest adage, and it's absolutely true. I've based many events and characters either on specifics or amalgamations. But beyond that, listening to how people talk in real life is incredibly important. I always want my dialogue to sound like a conversation you might overhear in a pub, workplace coffee room or on a bus, so in that sense, everything I do is influenced by real people.
Nathan's current novel Out of the City is out now. Here's what it's about: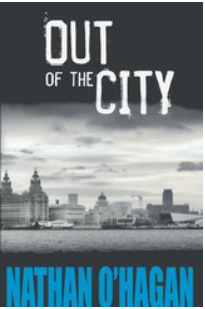 The new novel by Birkenhead-born Nathan O'Hagan, author of The World is (Not) a Cold Dead Place, turns the temperature down to absolute zero in a thriller that stalks the darkest corners of the male psyche.
The new novel by Birkenhead-born Nathan O'Hagan, author of The World is (Not) a Cold Dead Place, turns the temperature down to absolute zero in a thriller that stalks the darkest corners of the male psyche.
This noir journey through bars, gyms, retirement homes, gay clubs and footballers' mansions leaves a trail of suffocating guilt and psychosexual violence that seems all too real. In exploring 'crises of masculinity', O'Hagan trenches psychological depths with a worldly cynicism worthy of Camus, Jim Thompson or Bret Easton Ellis – and transcends the limits of the crime genre as we know it.
About Nathan O'Hagan
Nathan grew up on Merseyside, and now lives in the Midlands with his wife and two children and works full time for the NHS. After spending most of his teens and twenties in various unsuccessful bands, Nathan eventually turned his hand to writing. In 2013, he self published a short fiction collection, Purge.
The World Is (Not) A Cold Dead Place was his first completed novel, published through Leeds based "punk publishers" Armley Press in 2015, and was described by author Russ Litten as "a beautiful bruise of a novel." It is currently in development for a potential UK TV series.
This was followed up by Out Of The City in 2017, which Nick Quantrill called "a scuzzy piece of swirling Scouse neo-noir".
In 2017 Nathan co-founded Obliterati Press with writer M.W. Leeming. Their first novel is Lord Of The Dead by Richard Rippon, which is published 3rd November 2017.
He regularly writes features and reviews for God Is In The TV, Sabotage Times and Clash Music.
Website: nathanohagan.weebly.com
Twitter:
Facebook:
Amazon: https://www.amazon.co.uk/s/ref=nb_sb_noss_1?url=search-alias%3Daps&field-keywords=nathan+o%27hagan
Obliterati Press:
Website: obliteratipress.com
Twitter:
Facebook:
A huge thank you Nathan for taking part and for the brilliant answers. I WILL get my copy of The World is (not) a Cold Dead Place read and reviewed soon, I promise! Wishing Obliterati Press every success. I love the premise behind what you guys are doing.