I am delighted to be one of today's hosts for The Man Who Died by Antti Tuomainen and I'm finally sharing my review of this fab book. But first the all important blurb…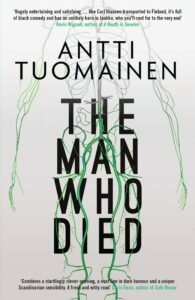 The Blurb
A successful entrepreneur in the mushroom industry, Jaakko Kaunismaa is a man in his prime. At just 37 years of age, he is shocked when his doctor tells him that he's dying. What is more, the cause is discovered to be prolonged exposure to toxins; in other words, someone has slowly but surely been poisoning him. Determined to find out who wants him dead, Jaakko embarks on a suspenseful rollercoaster journey full of unusual characters, bizarre situations and unexpected twists.
With a nod to Fargo and the best elements of the Scandinavian noir tradition, The Man Who Died is a page-turning thriller brimming with the blackest comedy surrounding life and death, and love and betrayal, marking a stunning new departure for the King of Helsinki Noir.
My Thoughts
I love a book with a cracking first line and Tuomainen's The Man Who Died has one of THOSE first lines. It is both amusing and unexpected. It perfectly sets the tone for the rest of the book.
Jaakko is a successful mushroom farmer in Finland and is shocked when he finds out that he is dying. Not only is he dying but it is due to being poisoned. Jaakko embarks on a journey to discover who it is who wants him dead and discovers more secrets and lies than he expects.
I absolutely love Jaakko! Tuomainen has created an incredibly likeable, relatable character. You become completely at one with him and he is the sort of person I would love to have a pint with. Jaakko is incredibly human as we see his everyday concerns – such as having put on a bit of extra weight in his thirties – those things that we all, at times, worry about. His sardonic outlook and wry, dark wit appealed to me greatly. As somebody with a chronic illness who has had to adjust to certain limitations and symptoms, Jaakko's outlook on his health and situation and how he deals with it really struck a chord with me. He manages to see the humour in his situation and The Man Who Died had me giggling out loud and nodding my head in agreement.
Tuomainen has also written a great mystery novel. As we join Jaakko on is journey to discover who is behind poisoning him we are treated to twists, turns and red herrings all set against a stunning backdrop. Tuomainen's prose is, quite simply, gorgeous. It's as though he has spent time carefully considering every word to ensure it fits and makes an impact and yet it flows effortlessly. As always with Orenda books, the translation by David Hackston is flawless.
The Man Who Died subverts being categorised into a genre. For me it is a book about the absurdity of living and dying and how we, as humans, deal with it. It's almost philosophical in tone in that it makes you think about the ridiculousness of worrying about the minutiae of life – something we are probably all good at but which does us no favours.
Full of the darkest, wonderful humour and a gripping plot Tuomainen's The Man Who Died is a fantastic read and I can't recommend it highly enough. Tuomainen's abilty to pull off this departure from his usual writing and to pull it off with such skill is a testament to his talent as writer.
Published on 10 October 2017 by Orenda Books.
About the Author
Finnish Antti Tuomainen (b. 1971) was an award-winning copywriter when he made his literary debut in 2007 as a suspense author. The critically acclaimed My Brother's Keeper was published two years later. In 2011 Tuomainen's third novel, The Healer, was awarded the Clue Award for 'Best Finnish Crime Novel of 2011' and was shortlisted for the Glass Key Award. The Finnish press labelled The Healer – the story of a writer desperately searching for his missing wife in a post-apocalyptic Helsinki – 'unputdownable'. Two years later in 2013 they crowned Tuomainen 'The King of Helsinki Noir' when Dark as My Heart was published. The Mine, published in 2016, was an international bestseller. All of his books have been optioned for TV/film. With his piercing and evocative style, Tuomainen is one of the first to challenge the Scandinavian crime genre formula, and The Man Who Died sees him at his
literary best.
A huge thank you to Antti Tuomainen, Karen Sullivan and Anne Cater for the advance copy and for inviting me to take part in the blog tour. Follow the rest of the tour for more reviews and guest posts…