There are so many books that have had an impact on me over the years, and I have decided to re-read some of them and see if they have the same effect on me now. I'm curious as to whether or not my views on them have changed as I have grown and matured (allegedly!). The first is A Judgement in Stone by Ruth Rendell.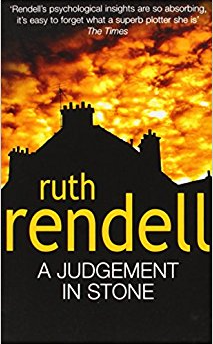 The Blurb
Four members of the Coverdale family – George, Jacqueline, Melinda and Giles – died in the space of fifteen minutes on the 14th February, St Valentine's Day. Eunice Parchman, the housekeeper, shot them down on a Sunday evening while they were watching opera on television. Two weeks later she was arrested for the crime. But the tragedy neither began nor ended there…
My Thoughts
I first read my mum's copy of this book when I was a teenager and it made a real impression on me. I guess it was the first psychological thriller I ever read and it opened up for me a whole new perspective on the crime novel. I initially read this at a time when I was just becoming interested in human nature and what makes people tick and A Judgement in Stone had a pretty profound effect on me. It has been a book I have never forgotten and I wanted to see if, twenty-odd years later, it would still have the same impact on me.
'Eunice Parchman killed the Coverdale family because she could not read or write.'
This first line blew me away when I first read A Judgement in Stone and it blew me away again. You really can't beat a killer first line and Rendell pretty much nails it here. This was the first opening line I fell in love with and it made me realise what an impact the initial line of a book can have. It raises so many questions – why would being unable to read and write result in the murder of a whole family being one of them – and it perfectly sets the tone for the rest of the novel. This was the first time I had ever read a crime novel in which the perpetrator is known from the outset. From the very start we know who committed the crime, how the murders were carried out and when Eunice was arrested. This book is all about the why and it makes for a fascinating read as, let's face it, who doesn't want to know the motivations and thought processes behind those who commit murder?
A Judgement in Stone is very much a character study. We get to know Eunice Parchman in a way that those around her don't as we are privy to her secrets, thoughts and feelings. She is a character that has little to no redeeming features. I love a character I dislike and quite often I do find something in them with which I sympathise, however, I'm not sure I do in Eunice.
Eunice isn't the only dislikeable character. Her one and only friend Joan Smith is, quite frankly, unhinged and the Coverdale family are snobbish and assured of what they consider to be their elevated status. The only character I had any real positive feelings towards was Melinda Coverdale. This melting pot of difficult, disagreeable characters is one of the things that makes A Judgement in Stone such a great read for me.
While the characters are central to the story, Rendell also uses the decisions we make and the actions we take as a central theme. There is the overriding sense of 'if only' throughout the book and it gets you questioning how much control we have over our own destiny. Every action each character takes results in a trajectory that will end in their eventual downfall.
'In that moment … an invisible thread lassoed each of them, bound them one to another, related them more closely than blood.'
Rendell also fully considers the impact of illiteracy on the psyche and self-esteem of a person along with the views that others have of them. I remember how A Judgement in Stone made me re-think about my ability to read and I found myself considering this ability all over again while reading it for the second time. How we take reading for granted and use it without even thinking about it, how books and the written word open us up to experiences and emotions we have never had and how it can make us rounded individuals by aiding us in considering things from a different perspective. Rendell also made me really consider how those who are unable to read and write navigate a world in which the written word is so dominant;
'The advantage of being illiterate is that one achieves an excellent visual memory and almost total recall.'
Rendell's prose is considered and stunning and had me underlining so many sections of text. She has a real way with words as she manages to perfectly craft sentences that set the dark and catastrophic tone and you find yourself re-reading sentences more than once in order to fully appreciate their beauty and meaning. First published in 1977, there are some expressions and words that are quite shocking and offensive to our modern sensibilities but they clearly give a feel for the time and the less politically correct world we live in.
A Judgement in Stone is one hell of a book and I enjoyed it as much, years later, the second time around. It stands the test of time and, in my very humble opinion, is a classic. If you enjoy psychological thrillers and haven't read this book get it on your bookshelf as soon as possible.
First published on 2 May 1977. This is a review of my own copy which was published on 23 February 2010 by Cornerstone digital.