I am thrilled to be joined by Kate Dunn today who tells us the challenges involved in writing her latest novel The Dragonfly. We will begin by telling you about Kate's latest book and then hand over to the lovely lady herself.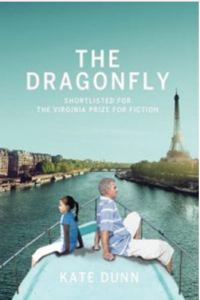 The Blurb
Awarded a Kirkus Blue Star and shortlisted for the Virginia Prize for Fiction.
When Colin discovers his son is on a murder charge in France, he trails his small boat, The Dragonfly , across the channel to stay in Paris to try and help him. There he meets his grand-daughter the irrepressible Delphine for the first time. They embark on an exciting boat journey through the picturesque French canals, heading south through Burgundy, until the butter melts. Along the way, they catch up with Tyler, a spirited American, and through various mishaps and misunderstandings, they land big fish, cultivate new loves and uncover a burning secret. But can Colin finally help his son get off the hook?
Shortlisted for the 4th Virginia Prize for Fiction, The Dragonfly is the new novel by Kate Dunn: 'a charming family drama set on the waterways (and in the prisons!) of France.' (Claire King, author of The Night Rainbow and Everything Love Is). A beautifully written and expertly plotted adventure: 'Quirky and warm-hearted, with darker undertones that keep you gripped. Kate Dunn is a fine storyteller.' (Ben Elton)
What were the main challenges in writing The Dragonfly?
The Dragonfly is set in France, on the canals and rivers south of Paris and my husband and I are lucky enough to own a small boat, so much of the action is based on our own (mis)adventures and the places described we have visited ourselves. I wanted to make sure that I was being as accurate as possible without falling into the trap of over-using my research (I did once make my husband retrace our route along the canal for many miles in order to check whether the trees fringing a particular lock were limes or chestnuts, as he reminded me quite pointedly the other day!) I suppose it's a question of balance, including enough factual information to anchor the story in reality, but allowing yourself the creative license to add atmosphere and emotional resonance to what you are describing, because in the end that's what brings it to life.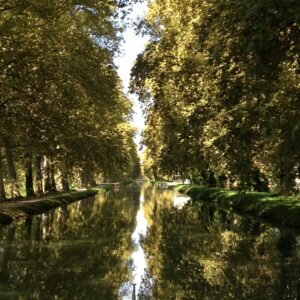 How difficult was it to write about life inside a French prison?
This is where the subplot of the novel takes place. Colin's son Michael is on remand for killing Delphine's mum. I'm making the story sound rather dark, but it isn't, and the scenes in the prison provide some of the humour in the book. Just as Colin and Delphine are dealing with the limitations of managing together on a tiny boat, Michael and his French cellmate Laroche are up against the constraints of living in really close proximity together. Most of the scenes take place within the four walls of their cell – the wider prison life is slightly out of focus at the periphery of this, so it's mainly about the relationship between them. Laroche is quite a striking guy: dyslexic, brutalized, perceptive and ultimately humane. So I guess with both the setting and the characters it's what's happening on the inside that is interesting and important, that's where my creative energies are focused.
Your main character is a man – Colin. As a woman did you find it difficult to write from a male point of view?
To be honest, I didn't think of him as a man. I thought of him as a person. He was very vivid in my mind's eye as I was writing, but what interested me about him was not his gender, but his flaws. He's quite a complex character – as the result of a bitter divorce he has become estranged from his only son and he has some responsibility for this. I saw him as a fundamentally decent and well meaning person who made one or two dreadful mistakes – something all of us are capable of. The thrust of the story is his attempt to make up for what were quite catastrophic errors of judgment in the past. It's not just a journey through the meltingly lovely heart of France, for Colin it's a journey to self knowledge and reconciliation. Interestingly, some of the other characters in the story were just as challenging – it was also to quite a leap of the imagination to get inside the head of a nine year old girl and Delphine has emerged as quite a feisty child: funny, unpredictable and incredibly vulnerable. I love them all. They are like family to me.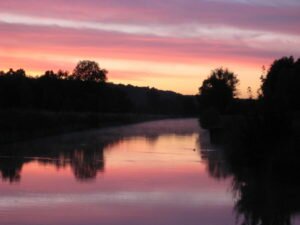 Were there any other challenges?
It took a long time to find a publisher. The literary world is a highly competitive place. I started writing The Dragonfly at the end of 2009 and it wasn't until 2016 that it was short-listed for the Virginia Prize for Fiction to encourage emerging women writers, which is run by my small but perfectly-formed independent publisher Aurora Metro, who picked it up. In the meantime, I had put it in a metaphorical drawer and written a whole other novel (The Line Between Us). I'm only sharing this to show that you should never give up: if you are asking me about challenges, then perhaps the greatest challenge for a writer is to keep on writing, no matter how discouraged you may sometimes feel.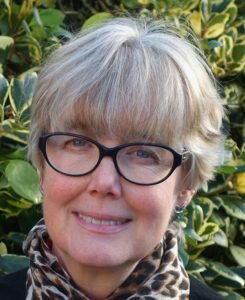 About Kate Dunn
Kate Dunn has had five books published, two novels: Rebecca's Children and The Line Between Us as well as three works of non fiction, Always and Always — The Wartime Letters of Hugh and Margaret Williams, Exit through the Fireplace and Do Not Adjust Your Set. She has written travel articles for various national newspapers and has broadcast on Radios Two, Three and Four including regular contributions to Front Row. She worked for ten years as an actress and has a PhD in Drama from Manchester University. Her third novel The Dragonfly, published by Aurora Metro, is out now.
Website: http://www.katedunn.co.uk
Twitter:  
Publisher: http://www.aurorametro.com
A huge thank you Kate for taking in the Q&A and for the brilliant answers!