I am delighted to be joining the blog tour for Anything for Her by GJ Minett today. Unfortunately, I haven't had time to read the book but I'm excited to be able to share an excerpt with you today. Let's face it, an excerpt is probably better than listening to me blah on about my thoughts! I will firstly tell you what the book is about and then on to the excerpt. So, grab a cuppa and enjoy.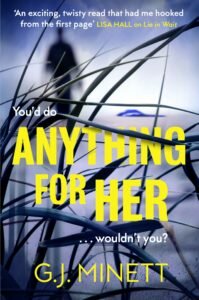 The Blurb
A devilish psychological thriller from the widely loved GJ Minett, for fans of The Girl Before and Lie with Me.
You'd do anything for the one that got away . . . wouldn't you?
When Billy Orr returns home to spend time with his dying sister, he bumps into his ex-girlfriend Aimi, the love of his life. He might not have seen her in eleven years, but Billy's never forgotten her. He'd do anything for her then, and he'd do anything for her now.
When Aimi tells him that she wants to escape her abusive husband, Billy agrees to help her fake her own death. But is she still the Aimi that Billy remembers from all those years ago?
Once Aimi disappears, Billy has to face the possibility that perhaps she had different reasons for disappearing – reasons that might be more dangerous than she's led him to believe . . .
Sometimes trusting the one you love is the wrong thing to do.
Excerpt
Matthew had a golf match scheduled for midday and was happy to leave them to it. He offered to give them a lift to Tenterden, suggesting they could get a taxi home. Mia's Fiat was sitting there in the driveway and Billy wondered why they didn't just take that. As if reading his mind, she launched into an obviously pre-rehearsed spiel about the brakes being a little unreliable lately and how she wouldn't feel comfortable using it until she'd had them checked over. It sounded shaky, her swift glance at Matthew not lending any conviction to it whatsoever and it was difficult to escape the conclusion that the real problem was the prospect of Mia being behind the wheel. He thought of offering to drive instead but didn't want to make her feel any more uncomfortable than she already was.
He found the Alpen halfway down the aisle, pondered over it for a few seconds and then opted for the Original rather than the No Added Sugar variety. Sod's law said it would be the wrong one but he'd try to remember to check with her before they got to the checkout – always assuming he could find her in here. She'd gone off to queue at the deli counter ten minutes earlier and he hadn't seen her since. The place was heaving.
He fetched the list out of the trolley and worked his way down it to see where he needed to go next.
'Billy?'
He looked up, half-expecting it to be Mia standing there although even as he did so it dawned on him that the voice was wrong – familiar, yes . . . but not quite right. And the moment he realised who was standing there in front of him, this whole morning's trip down memory lane took on an altogether different perspective. He was dumbstruck for a second or two in a way he'd have been the first to dismiss as a cliché in different circumstances. He stayed rooted to the spot for a moment, uncertain as to what would be the most appropriate way of greeting her, and it was only as she solved the problem for him by stepping forward and giving him a hug that his mouth finally managed to find his voice.
'Aimi?' he said.
Mia's on her way back from the deli counter, trying to track down Billy and the trolley. She's just rounded the corner at the far end of the aisle when she catches sight of him, locked in an embrace with someone she doesn't recognise at first. She takes a few steps towards them but when they break apart and she has a chance to see who it is, she promptly turns on her heel and heads back in the opposite direction, hoping they won't have noticed. All of a sudden, the washing products seem to offer an attractive alternative.
Has that whet your appetite? If so you don't have long to wait. Anything For Her is published on eBook on 30 November 2017 and paperback on 22 March 2018 by Bonnier Zaffre.
A huge thank you to G J Minett and Emily Burns at Bonnier Zaffre for inviting me to take part in the blog tour and for allowing me to share an excerpt. Catch the rest of the tour…